Learn on the best online learning platforms with Visa!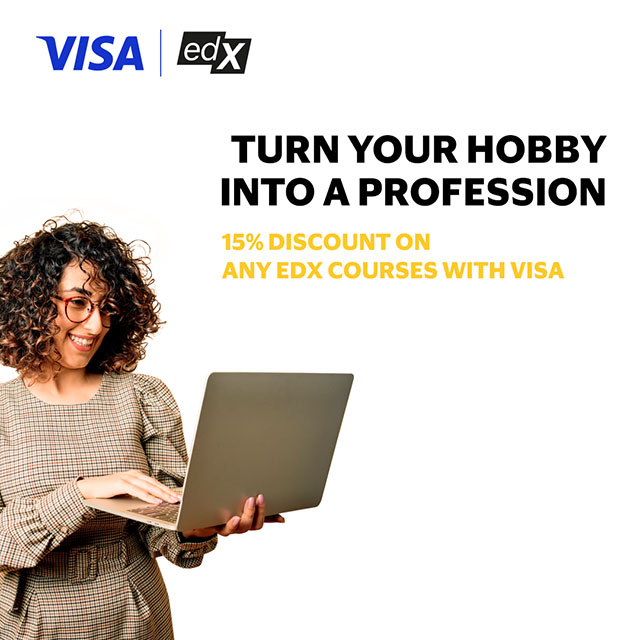 edX
Learn on the interactive edX online platform, founded by the Massachusetts Institute of Technology and Harvard University for those who do not like the classical learning model. A wide choice of directions and a great opportunity to climb to the next career step. And for Visa cardholders, there is a 15% discount on all courses with a special code VISA15.
The offer is valid for all Visa cards until September 30, 2023.
To receive the discount, please make sure you are registered with edX.
The code can be used for over 2500 courses currently open.
The code can only be used for individual courses and cannot be used for programs. Also, the code cannot be used for PennX or StanfordX courses.
Code valid until 23:59:59 September 30, 2023.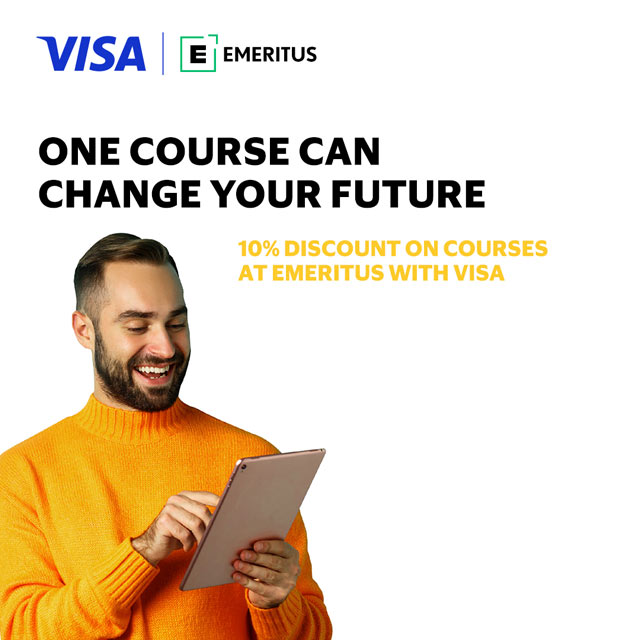 Emeritus
Improve your professional skills with Emeritus - choose from more than 10 different areas of study, and perhaps it is on this course that you will be told something that will radically change the way you look at your chosen profession. To make learning more enjoyable, all Visa cardholders receive a 10% discount on select courses.
The offer is valid for all Visa cards until September 30, 2023.
The offer is valid for all Visa cards until September 30, 2023.
To receive a special offer, please use the link and fill in your details.
The details of the offer are based on the information provided by the Seller. Visa makes no guarantee that the information provided is correct. Please contact the Seller to confirm the availability and authenticity of the offer.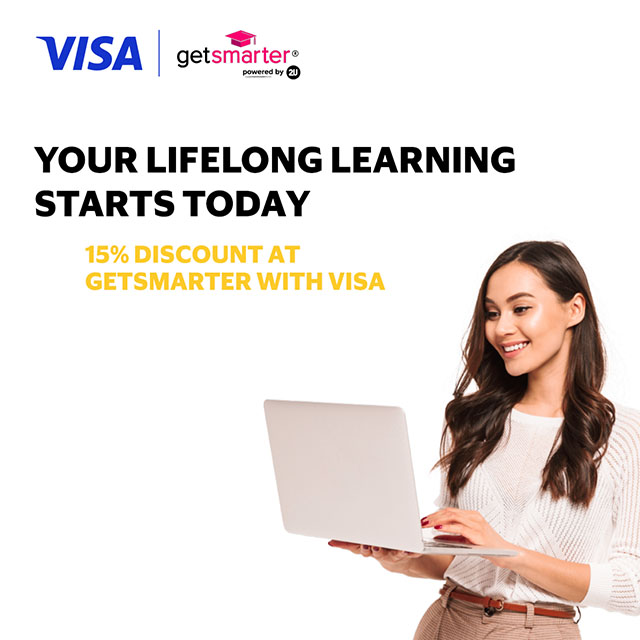 GetSmarter
Get knowledge from the world's best universities in 6-8 weeks on the GetSmarter platform with a 15% discount with a Visa card. On the platform, you will have the opportunity to master not only degree programs, but also key modern skills such as leadership and technology.
The offer is valid for all Visa cards until September 30, 2023.
To get a discount, use promo code 2UESGSVISA15 on the GetSmarter website.

This code is valid for Visa cardholders only and is non-transferable. The code cannot be redeemed for cash or credit, is subject to availability on the applicable course and must be redeemed by September 30, 2023.
Offer only applies to the specific GetSmarter online short courses listed on the website.
Additional terms and conditions that apply to all course registrations can be found on the GetSmarter website: https://www.getsmarter.com/terms-and-conditions-for-students
For corporate rates, contact GetSmarter directly at [email protected].
Please note that the offer does not apply to the following territories: Islamic Republic of Iran, Republic of Cuba, Syrian Arab Republic, Sudan, Democratic People's Republic of Korea, Autonomous Republic of Crimea, Somalia, Russian Federation.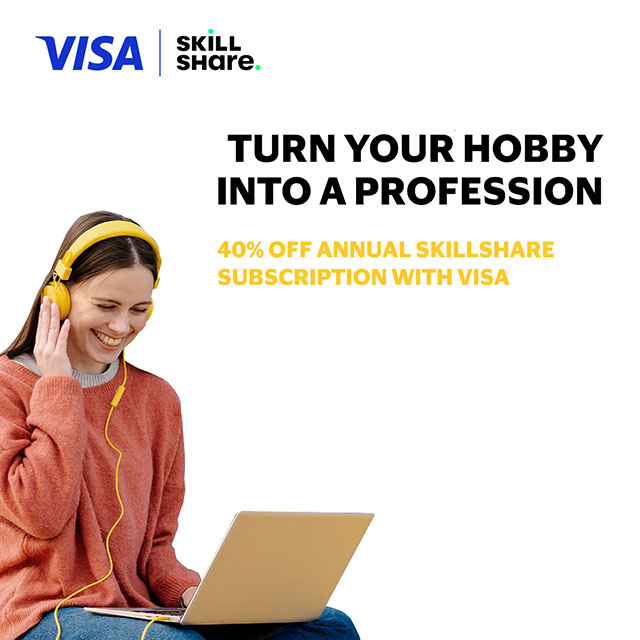 Skillshare
Bring your creative dreams to life with Visa. Sign up for an annual subscription to Skillshare with your Visa card and not only get access to thousands of inspiring videos and video tutorials, but also a 40% discount on an annual subscription to any course you like.
The offer is valid for all Visa cards until September 30, 2023.
Offer valid for new Skillshare users only.
A valid credit card payment is required for payout.
Offer cannot be combined with any other offer.

One payout per cardholder is allowed.
The user will be charged after the end of the free subscription unless the user cancels it. Offer valid only for eligible Visa cardholders.
The trial version is subject to the Skillshare Terms of Service: https://www.skillshare.com/terms.